Fortune smiles: more DIY slivovitz
Aug 24, 2013
Last year's batch of DIY slivovitz was so tasty that I've been rationing the bottle in the fridge, stealing a small sip once a month, drinking the Serbian commercial slivo in between.
I'd promised Bora and Karyn that I would make a triple batch this year, and so for months I've been searching for a supply of Italian prune plums. I called orchards in six states, begged on Twitter for help, and prowled the produce sections of all the supermarkets near my home and when I was on the road.
This week, thinking I'd already passed the season, I started to call produce managers directly. Yesterday, the Heinen's in Rocky River, Ohio — where my mother-in-law is a loyal and treasured customer — had just received a carton of the prune plums I wanted. But they were 500 miles away, I wasn't sure how shipping them would work and I couldn't schedule an impromptu road trip, so I decided to sleep on how I might get them.
Instead, this morning I called around again to the supermarkets in Chapel Hill and Durham. Bingo! The Harris Teeter at Hope Valley Commons had six pounds, and Erin just happened to be nearby. She stopped in and cleaned them out.
Which meant that tonight, after the neighborhood back-to-school ice cream social down at the park, and after the dishes were washed and the kitchen cleaned, I prepared five pounds of plums with two liters of Polish vodka in six quart Mason jars. In 100 days, this double batch will be ready to be poured into the maple syrup bottles I've been saving for a year, and I'll be toasting once again to the continued success of ScienceOnline with my friends.
I celebrated my luck — the availability of prunes, friendship with Bora and Karyn, a fabulous ScienceOnline community — with a full shot of the slivo in the fridge.
I'll be looking for more prune plums over the next week or two, to make another batch or two of slivo, maybe a plum tart tatin, and something from Mrs. Wheelbarrow's Kitchen (it's Cathy's slivo recipe I follow).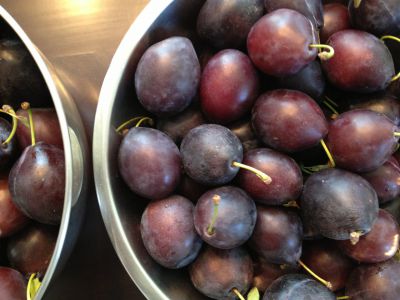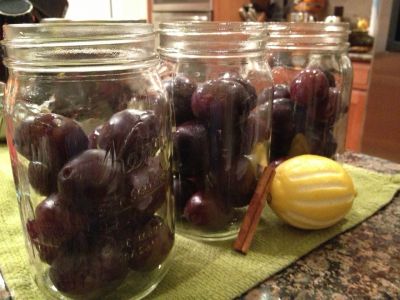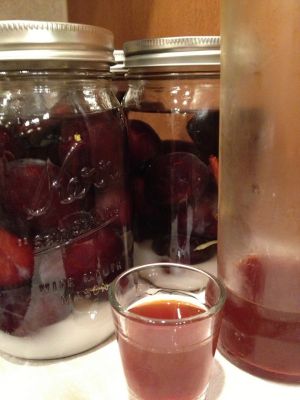 Anton Zuiker ☄

© 2000 Zuiker Chronicles Publishing, LLC