DIY slivovitz done good
Jan 20, 2013
Bora and I have been sipping slivovitz for years, in friendship and in celebration of the annual ScienceOnline conference. So when Bora came across The ease and appeal of DIY slivovitz in the Washington Post last fall, we knew we had to try it. After weeks of searching online for the right plums, I happened to find two pounds of very ripe Italian prune plums in a local grocery store, and immediately prepared the concoction: vodka, sugar, cinnamon sticks, orange peel and the plums, poured into Mason jars.
I put the two jars in a dark corner of one of the cabinets. Sixty days into the 90 we needed to wait, Bora and Karyn were over for a ScienceOnline board meeting. After we'd discussed important business, we tested the slivo. It wasn't ready.
The waiting was over last week, so I strained the liquor into clean bottles, and stashed them in the freezer. Bora and Karyn returned Friday night. I poured, we toasted, we tipped.
"This is good," Bora immediately reported on Facebook. It's quite sweet, but very plummy, with pleasant perfume of cinnamon. Karyn wanted more, but she needed to get back to her office, where she's cooking up even more ScienceOnline goodness. We promised to make a triple batch this summer, and to gather again next month to toast to Karyn's leadership of the organization and, in our tradition, a successful ScienceOnline2013.
I poured second shots for me and Bora, and we sat in the living room and talked for a couple of hours.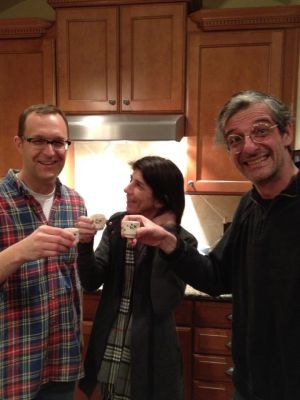 Anton Zuiker ☄

© 2000 Zuiker Chronicles Publishing, LLC