Cherry pie, pits and all
Jun 17, 2013
School's out in Carrboro, and Dan and Joanne Shaughnessy are about to celebrate their 50th anniversary, so the kids and I loaded up the car yesterday and headed north to Cleveland.
Our first stop: Levering Orchard in Ararat, Virginia, where we climbed ladders into the cherry trees to pick sour cherries. (I'd read about this orchard in Andrea Reusing's cookbook a few weeks ago when I was preparing the Mother's Day meal to remember, and cherry season nicely corresponded with the family vacation.) It was a humid afternoon, and there was a throng of people in the trees, but we managed to fill a bucket with about four pounds of the small cherries before Oliver was tired and the rest of us were hot and thirsty. Still, not a bad way to spend Father's Day.
From Ararat, up the mountain to the Blue Ridge Parkway, then north to West Virginia to Camp Creek State Park. We pitched the tents, got a fire going, heated the hot dogs and roasted marshmallows. Just as we assembled the s'mores, the rain started. The rain got heavier, the tents started to leak, and thunder and lightning ended our hopes of sleeping outdoors, so I gathered up the soggy tents and we drove north to Charleston and a cheap motel.
In the morning, still the road north. But we were in Cleveland by 1pm, with grandma and grandpa waiting with lunch when we pulled in. Malia quickly begged grandma to show us how to make a cherry pie, so we were pitting the cherries and then Malia and Anna were learning how to roll pie crust and prepare the pie filling — Malia thought it was funny that Joanne kept adding ingredients "not called for" in the cookbook recipe, but the extra vanilla and nutmeg would make for a tasty pie.
Dinner was on the deck overlooking the Rocky River valley (Cleveland Metroparks), and then the cherry pie was before us. It was blue-ribbon quality, delicious. Just perfect, from ladder stretching to last bite.
Some photos from the process: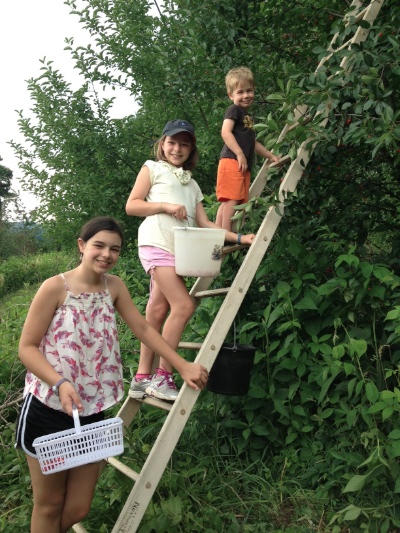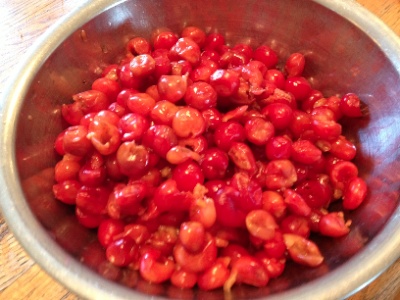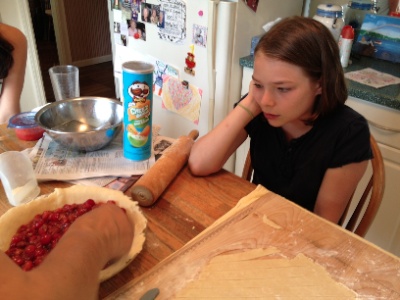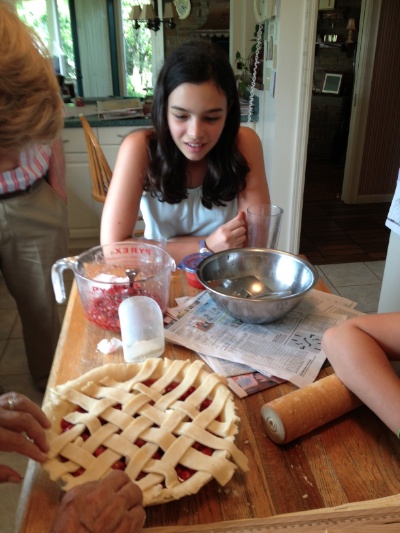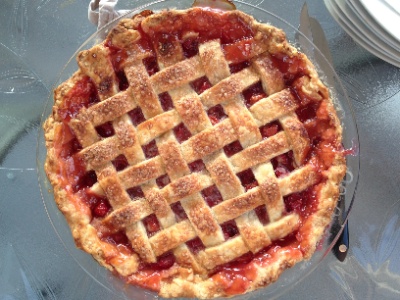 Anton Zuiker ☄

© 2000 Zuiker Chronicles Publishing, LLC