Farm to fork
Jun 9, 2013
In the line at Whole Foods yesterday — getting ingredients so Anna and Malia and I could make chocolate financiers from the Bouchon Bakery Cookbook — I picked up issue 01 of Modern Farmer, a new quarterly focused on agriculture. It looked both interesting and beautiful, so I bought the magazine. At home, I sat on the front porch swing with a glass of iced lemonade, enjoying the afternoon warmth (tropical-storm rains had drenched North Carolina the day before) and reading about wild pigs and hardware stores in France and mangoes in Malawi and recommendations from the Drunken Botanist on which herbs to grow for unique cocktails. There's architecture, travel, reading, fashion, and, yes, even farming in this publication — see the table of contents. It's a lot like my favorite food magazine Saveur, but without recipes. I paid for a two-year subscription, and am looking forward to more great porch reading in the years to come.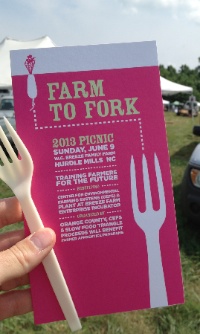 This afternoon, I drove 16 miles up Old NC 86, through Hillsborough and out to Hurdle Mills, to park in a field and join hundreds of other foodies for the annual Farm to Fork Picnic, which I'd last attended this in 2007 (reported in this post). It was bright and hot afternoon, and I was sweating in the Aloha shirt my dad had given me for my birthday back in April, but I made the rounds of the small tents where three dozen restaurants, each paired with a North Carolina farm, presented a delicious morsel of food.
While the Ayr Mountaineers played on the stage in the big tent, I tasted Big Spoon Roasters peanut butter with sorghum molasses, and Escazu iced chocolate following the very first published recipe from Spain, then grabbed a cup of Fullsteam Fearrington summer ale, and later a cup of Mystery Brewing Company Queen Anne's Revenge Carolinian Dark IPA.
At a tent with the new Raleigh Korean restaurant Kimpap and Lucky 3 Farm, I took a plate of Bo Ssam, the pulled pork in a lettuce wrap that I often make at home. Kimbap's was fantastic, and I would return there for seconds. And then thirds.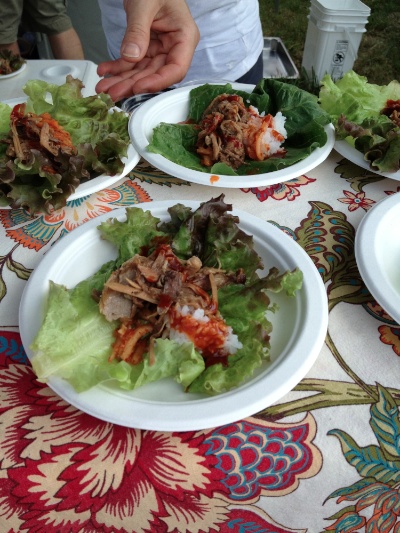 Back under the big tent, remembering the article about seed banks I'd read earlier in the day in Modern Farmer, I took a packet of Hopi Yellow watermelon seeds from the NC Cooperative Extension table. I poured a cup of ice wild bergamot tea from Waterdog Farms, and sat for a while in the camp chair I'd set up in the middle of the field. Now, Michael Holland was singing a cover of Louis Collins, which I thought was the version by Josh Ritter but which Holland said was by Mississippi John Hurt.
Later, a long conversation with Bill Rice of the Walking Fish Cooperative in the tent where chef Amy Tornquist had presented smoked North Carolina bluefish with dill potato salad and pickled onions. My grandfather, Frank the Beachcomber would surely have enjoyed this. He regularly fished the outer banks for the blues.
I walked again tent to tent to tent, marveling at the richness of this region's farms and talents of our chefs. I'll be back next year, with my family along for the experience.
Notes
I used the new Vesper app to take notes during my tasting.
Anton Zuiker ☄

© 2000 Zuiker Chronicles Publishing, LLC