Weekend report: Mango marathon
Jun 2, 2013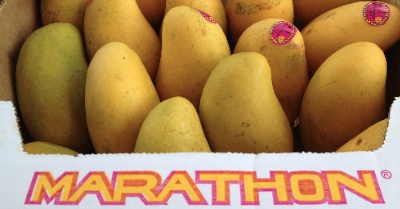 Friday night, after Erin and the girls had watched another episode of Family Ties — Anna and her friends have discovered the 80s sitcom, and Erin has nostalgically encouraged their continuous viewing — and were asleep, Erin and I snuggled together to watch Side Effects. That was a enjoyable thriller about psychiatry, pharmaceutical marketing and, ultimately, murder.
My spring-cleaning new healthy lifestyle inspired me to text my father and brothers that night, suggesting we meet up in Honolulu this December to run the Honolulu Marathon. It will be 20 years since dad, Nick and I ran that together (read my Cleveland Plain Dealer essay, A Son Recalls the Run of His Life). The registration fee is $165 per person. I think it was under $20 when I signed up in 1993 as a kama'aina.
Saturday morning, Anna was sleeping in (has strep throat), so Malia and Oliver and I set out to pick strawberries at Waller Family Farm in Durham County, but the patch was closed for lack of berries. No worries, I steered the car to the festive Durham Farmers Market at the aptly named Central Park, where there were berries and cinnamon rolls and food trucks and artists and a guy playing an upright piano on wheels:
Back home, I made a batch of strawberry jam.
Then, Malia and I loaded the old lawn mower into the back of the van, and drove it to the hardware store in Durham, where we left it for repair. We walked across the parking lot to the Around the World Market that sells a large variety of Indian and other Asian foods. We got a bag of basmati rice, a carton of Lipton Darjeeling tea (in the green box, loose leaf; I use it to make chai) and a box of Marathon Ataulfo mangos, 18 for $12.99. I just ate one, and it was delicious!
Back home, I crashed on the couch, and slept for a couple of hours. Later, a sitter came to watch the kids, and Erin and I went to dinner at Acme Food & Beverage Co. in Carrboro (our fair town), where we sat on the outdoor patio beneath a delicate magnolia tree and enjoyed a delicious meal of chile relleno filled with shrimp and rice, and North Carolina sea scallops over pureed cauliflower and shiitake mushrooms and a flavorful broth. I drank the pilsner from Foothills Brewing in Winston-Salem, passing on the beer from the brand-new Steel String Brewery nearby.
From Acme, we walked to the Carrboro Arts Center for the season finale of The Monti. Our friend, Carter Kersh, told a killer of a story to end the show and the season. Jeff Polish introduced him with a reference to Carter's performance at Talk Story last July. In a few weeks, when Jeff has posted Carter's story to his podcast, I'll be sure to point to it — although you should be listening to the Monti podcast every week anyway.
This morning, Oliver awake at 5:30, back downstairs, joined by Malia. I made another batch of strawberry jam, and peeled a mango for us. We're planning a road trip to Cleveland soon to celebrate the golden anniversary of Erin's parents, and along the way we're going to pick cherries at Levering Orchard in Virginia and camp in Camp Creek State Park in West Virginia. Malia and Oliver wanted to test the tents, so we pitched them in the back yard. While they lolled inside the tents, I sat on the back porch and read Colum McCann's Radical Empathy, about my favorite author and his new book, Transatlantic, which comes out Tuesday.
Elsewhere in the NYTimes Magazine, the Eat column by Sam Sifton is about the family meal, which in many restaurants is the meal that staff share before service begins. It's a nice look at the important tradition, and there's tasty recipe for fish tacos to go along.
And now, we're just back from the swimming pool, where I swam laps and Erin read The Lacuna by Barbara Kingsolver and the children played. I hear the voice of Alex P. Keaton upstairs, and Erin on the phone outside.
It's been a good weekend.
Anton Zuiker ☄

© 2000 Zuiker Chronicles Publishing, LLC