Handshake from a master chef
May 17, 2013
This afternoon, driving south through Chapel Hill and down 15/501 toward Pittsboro, I was remembering when Michael Ruhlman was here in the Triangle in November 2011, promoting his book Ruhlman's Twenty and telling a story at The Monti. In his story (he mentions it in Book Tour Blessings) he told about learning to kill a rabbit from Thomas Keller, chef at The French Laundry, one of the best restaurants on this planet.
I'd already been in awe of Chef Keller since reading about him in Michael's The Soul of a Chef, but after hearing Michael tell the rabbit story that night, I figured there was no way I'd ever have a chance to meet such a star. And besides, I thought, he's a chef, and surely he must safeguard his hands, so how could I ever shake his hand? (I like to shake hands.)
But this afternoon, after standing in line for an hour and a half in the warm but shady beer garden at Fearrington Village waiting to get the sumptuous Bouchon Bakery book signed, I was finally face to face with Chef Keller, and I was stunned when he reached across the table and warmly took my hand. His hand seemed large, and padded, and so gentle. I can't say it was a shake, because I had the sensation he was holding my hand — maybe because I'd just told the Talk Story crowd on Wednesday about how Noel would hold my hand as we walked up the road to the Lironessa co-op (From There to Here).
Then Chef Keller was signing the book to the Zuiker Family, and pushing it over to co-author Sebastien Rouxel (he's executive pastry chef for Keller's restaurant empire). When I mentioned that Michael was a friend, and he is continuously inspiring me, Chef Keller reached out and shook my hand a second time. Michael had actually alerted him that I might be stopping by, and he relayed an endearing message that truly humbled me. I started to chat with Chef Rouxel, and my buddy Bora walked up (he'd just tweeted a picture of a goat to show me he was walking from his home nearby to meet up with me) and suddenly I was seated between the chefs and Bora was snapping a photo.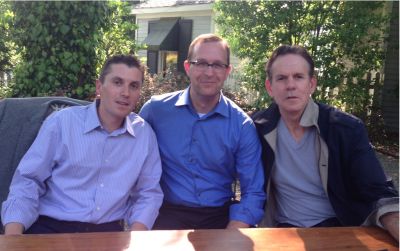 And then Chef Keller took my hand a third time, saying, "It's really nice to meet you." I walked away, happily holding the heavy, expensive cookbook, and I was thinking back to Michael's story about the rabbits, about how Chef Keller shows enormous respect to the animals and ingredients and elements that go into his cooking. His handshakes seemed to impart that same respect to me today.
What a heavenly day in the garden.
Anton Zuiker ☄

© 2000 Zuiker Chronicles Publishing, LLC