Day trip to talk about Peace Corps
Mar 10, 2013
On Friday, I took the day off from work to drive down to Davidson Day School to talk about my Peace Corps service in the Republic of Vanuatu. Chad and Kristen Metzler, who both teach at Davidson Day, were volunteers on the same island on which Erin and I served — they lived on the other side of Paama, with a daily view of the looming, conical Lopevi Volcano across the sea. Chad, who used to come to Liro Village with the soccer team from Luli and Lulep villages, used to run circles around me on the soccer field. Now, he's a winning coach who takes his teams to championships and on tours in Europe.
Chad had invited me down to the school to meet his students, share a view lessons of living in the South Pacific, and share lunch. I was able to hold the attention of first the high schoolers and then the fifth, sixth, seventh and eight graders. This photo of the outhouse/shower (with Terry Noel helping me show the structure) was the hit of my slideshow.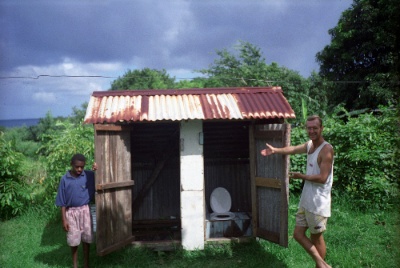 On the drive down, I listened to the new album by Josh Ritter, The Beast in its Tracks. Erin and I will catch Ritter when he returns to Cat's Cradle in May.
Anton Zuiker ☄

© 2000 Zuiker Chronicles Publishing, LLC