My island jukebox
Dec 10, 2012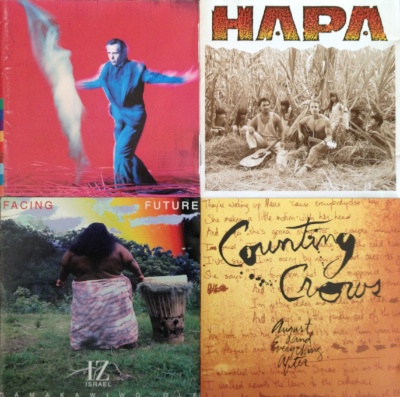 Twenty years ago, I was living in Hawaii, enjoying my first year out of college, working two jobs and patiently plotting a lifetime with a woman who lived far away. These were four of the records that I bought that year, that I listened to constantly, and that I still play repeatedly.
Us – Peter Gabriel
So here I was, in a tropical paradise after I'd departed Cleveland and turned back Erin's Claddagh ring (making her single again). She'd come out to Honolulu to visit that first Christmas, but then months went by when we were dating others and doing our own thing. When she went to Austria for a semester abroad, there was silence, and the distance hurt. When Erin sent me a mixed tape with R.E.M.'s Half a World Away, I misinterpreted her meaning, and thought I was finally losing her. Come Talk to Me singed that wound, but also gave me solace, somehow shoring up my strength.
Hapa – Hapa
I was super lucky to become friends with Alicia, a coworker at HMSA, and she coaxed me out to the bars (Anna Banana's and Moose Mcgillycuddy's, among others) to hear the hot bands of the day. But I think I first heard Hapa at the Honolulu Zoo one Friday afternoon, and I loved the music. Now on sunny summer afternoons, I go driving in the country and crank up the instrumentals Olinda Road and Kaopuiki Aloha, and imagine I'm smelling the alluring scent of a lei pikake.
August and Everything After – Counting Crows
I decided to have a party one weekend, so I set up poolside with a boombox and cooler full of beer, but, since I told only one person at work, no party. That one pal did show up, with another coworker and a tub of chili, and we drank beer and listened to the Counting Crows. Ever since, I've been obsessively organizing meetups and salons and unconferences, trying to live down that embarrassing lack of organizational effort.
Facing Future – Israel Kamakawiwo'ole
I met the gentle giant once, bought his CD and will always cherish his autograph. At the time, I was taking a Hawaiian language class at the University of Hawaii-Manoa, and I still have the book, Ka Lei Ha'aheo. My brief time in Hawaii meant I'd never be kama'aina, but the aloha spirit has never washed off. Listening to Iz makes me remember fondly those days.
It certainly helps that I got the girl.
Anton Zuiker ☄

© 2000 Zuiker Chronicles Publishing, LLC