Sea food
Dec 9, 2012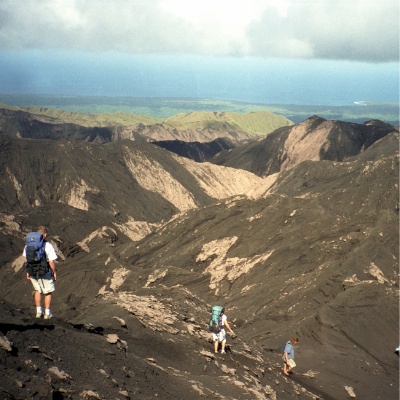 Erin, my wife and fellow Peace Corps volunteer, was recuperating in the capital after a bout of malaria when my dad, stepmother and brother, Nick, came to visit us in the Republic of Vanuatu. Erin and I took them one night to Harbourside, our favorite restaurant, in a converted copra warehouse serving Mediterranean-inspired Pacific Rim cuisine. From the shop next door, we brought in bottles of Australian and New Zealand wines, which went splendidly with the coriander-crusted red snapper. I couldn't imagine a more delicious meal.
I'd asked some of my fellow Peace Corps volunteers if they were up for a trek to stand atop an active volcano. Kevin and Erika, Josh (born on the same April 1970 day as me), Pat and Doug, Karyn and Tom said yes.
So off we went to Ambrym Island, in the middle of Vanuatu's archipelago of 82 islands. First a flight from Port Vila in a Twin Otter prop plane, then a three-hour boat ride along the north coast, once slowing down to allow two chickens to be tossed from the shore, destined for a dinner pot. After nightfall in Ranon Village, Nick and I and others drank kava on the beach, but not enough to delay our setting out early for the long hike. My heavy red L.L.Bean backpack strapped on, we meandered along the coast, then into the bush, hours of sweating and trudging and sipping frequently from water bottles. I eventually caught a glimpse of Mt. Marum, one of the twin volcanoes that I could usually see glowing from Paama Island, where Erin and I served. From the trail, Marum looked like Diamond Head Crater on Oahu, where I'd lived after college and worked nights in a popular pasta joint. Before we could exit the jungle and step out onto the vast ash plain leading to the twin peaks, our young ni-Vanuatu guides instructed us to toss stalks of cane onto the path ahead. "Kastom," they said.
More hours of hiking, through the cinder sea, toward pillars of smoke rising from Marum and Benbow. At one point, our guides dashed away, disappearing past an oasis of tall grasses. Had we not paid enough to the guides and the Volcano Association, or had our kastom offerings already offended the spirits? We kept walking, drawn to the cauldrons, and eventually were rejoined by the youth. "Mitufala go luk long wanfala wild bullock," explained Kinter. Chasing a wild cow? Fresh steak would have been an unexpected part of the tour package.
No steaks, but we'd reached our campsite, they told us. We hurriedly pitched our tents, and scrambled up the steepening slopes for another hour, pausing only to refill water bottles from the tiny spring in the cleft of a ravine. Then, precarious on the lip of Marum's crater, hot gases and steady wind blowing into our faces, we wondered if a day's hiking would really end with a wall of sulfurous smoke blocking any view of the lava below. But, a wind shift and a clearing, and 20 minutes to gaze down on the gurgling, spurting of earth's innards.
Back at camp, staring into a fire of our own making, we shared storian – conversation and storytelling – and Erika's bottle of wine. I crawled out of my tent in the middle of the night, faced the rumbling volcanoes, and peed onto the ash plain.
At dawn, we began our descent to the south side of Ambrym, balancing for miles on the tops of ridges of a stunning, eroded moonscape, even rappelling in ad hoc harnesses down a rock face. Exhilarated but exhausted, we arrived sea level at a dusty road. In one direction lay Sesivi, a village where we might find a truck to take us back the other direction to Craig Cove, with its airstrip we needed the next day. But it happened to be Vanuatu Independence Day – July 30, 1999 – and while there was sure to be dancing and lots of baby powder in Sesivi, we could very well be stranded there. So we walked more, hours more.
When we entered Craig Cove at dusk, we were utterly spent. Someone sang out for the owner of the guest house, and a shopkeeper let us grab cold Tusker beer (Vanuatu, not Kenya) from the cooler. We locked ourselves inside the guesthouse and took stock: can of tuna in chili-infused oil, bottle of olives, spaghetti noodles. Put together, it made a most satisfying meal. I collapsed onto a bunk and slept.
Later, on Paama, Erin was back to full health but still bummed she'd missed the volcano. Our close of service was within a month, and we were planning our return home to Cleveland the long way, with stops in Brisbane and Bangkok and Bilbao and Bergen. One morning, with a knock at the door, a man offered a just-caught two-and-a-half-pound spiny lobster, still wriggling and quite beautiful. Erin marinated the meat in lime juice and garlic and mixed in freshly squeezed coconut milk and tomato and onion. "This makes a delicious dish," says the recipe for Koran's Special Lobster Salad, in the Kakaim Gud! Peace Corps Vanuatu cookbook (Koran was a beloved ni-Vanuatu program officer). "I hope Erin's careful cuisine honored the creature's life," I wrote in my journal at the time. "It sure tasted good."
Afterword
National Geographic sent a team of scientists and photographers into the craters just a few weeks before our trek. Read the November 2000 journal article and see photos at Going to Hell.
See a few more of the photos from my trip to Ambrym in this Flickr set.
In early December 2013, astronaut Mike Hopkins tweeted this photo of Marum and Benbow from the International Space Station: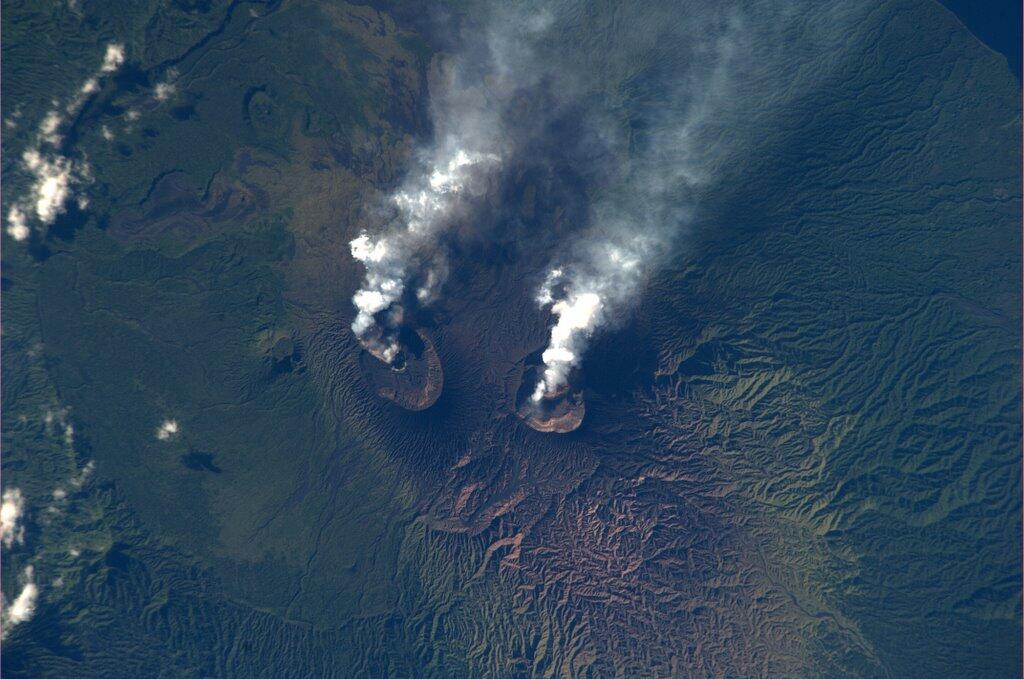 Anton Zuiker ☄

© 2000 Zuiker Chronicles Publishing, LLC