Colonel Aureliano Buendia, if I recall
Jul 16, 2012
I don't remember the first time I read the book. Maybe it was while I was swinging in a hammock in the South Pacific. Maybe earlier, in between day job and restaurant night job in Honolulu. Maybe even earlier, as a diversion from the more impenetrable novels of Latin American Dictators in Literature, a class I took at John Carroll University.
But, I did read One Hundred Years of Solitude, by Gabriel García Márquez, and I loved it. A few years later, I read it again, sitting on a bench across from Arabica Cafe at Cleveland's University Circle, this time a diversion from my editing duties at Northern Ohio Live.
I brought that beloved copy with me to North Carolina, read it again I'm sure, and then I was wandering the shelves of Durham's Book Exchange in 2002, holding Anna Olivia in my arms, and a copy of Cien anos de soledad, in some magical, real way, was leading me to the register to exchange thirteen dollars and fifty-eight cents for the dream of reading the original Spanish chronicle of Macondo.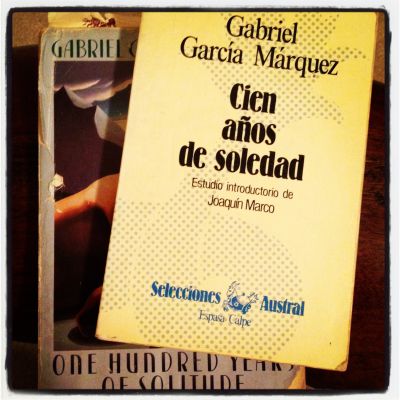 I'll take both copies with me to the beach next month, and try to forget, before I open to the first page, about the remarkable tale ahead.
Aaron Bady's Autumn of the Patriarch, Forgetting to Live is an insightful essay about the novel and the important theme of not remembering. It's a fitting tribute to García Márquez, who is still with us, but losing his own memory.
For the moment, I'll revel in my reminiscences of the many moments this book for the ages has enthralled me.
Anton Zuiker ☄

© 2000 Zuiker Chronicles Publishing, LLC