Still savoring the Lantern dinner with Andrea Reusing and Michael Ruhlman
Nov 6, 2011
Michael Ruhlman was in the Triangle this week, telling a story at The Monti, signing copies of Ruhlman's Twenty at A Southern Season, talking cookbooks on WUNC and headlining a special dinner at Lantern.
The talented and lovely Andrea Reusing, winner of the 2011 James Beard Award for Best Chef Southeast, (here's a photo I snapped of her back in 2007) and her team at Lantern created a most memorable meal (full menu, with wine pairings, is here), with an amazingly diverse set of tastes and textures. As Michael pointed out, serving all this amazing food family style was a brilliant way to facilitate the meal (the Long Table spirit, I'd say).
I had my very first raw oyster — Nassawadox oysters with hot sauce and North Carolina horseradish — and loved the softness (I took three bites). The dainty tea eggs with sichuan salt and scallion were perfect, and I wanted to ask if there were more in the kitchen, but before I could I was savoring the rilettes with "ume" salted cherries and the crispy Chapel Hill Creamery pork belly with 5-spice and pickled pumpkin. The crispy whole puffer fish with Edward's country ham, braised cabbage and oyster mushrooms was unique, and fun to eat. I'd order that for lunch every day if I could — Andrea gets a lot of this fish from Virginia, and talked with us about sustainable seafood and other local ingredients.
At the dinner were quite a few local suppliers to Lantern. I sat next to Richard Teague, whose High Rock Farm in Gibsonville, NC produces chestnuts, pecans, blackberries and raspberries. Richard is a retired chemical engineer living in a restored historical farmhouse built in 1807, and he's got a lot of chestnuts, from which he's beginning to produce gluten-free chestnut flour. Also at our table was Phoebe Lawless, whose Scratch Bakery is pie heaven.
Dessert was ginger fizz with muscadine grape creamsicle and homemade candied ginger. Mmm, mmm, mmm. That was created by Monica Segovia-Welsh, who works at Lantern and bakes bread with her husband in a wood-fired stove at their Chicken Bridge Bakery. Here's Monica serving Bora Zivkovic the roasted Moulard duck with kasu, white sweet potato, and pickled apple and shallots: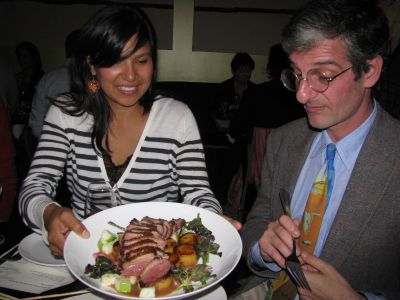 So, an amazing night I won't soon forget. Many thanks to Michael for traveling to North Carolina and to Andrea for delighting our appetites and to the many producers of food and cooking who make life so delicious.
UPDATE: Even though Andrea and I only started discussing this event a few weeks ago, she and her sous chef, Miguel Torres, explained to us that the meal had really begun 18 months prior, when they'd first put up a ham for curing in Andrea's basement. Talk about slow cooking!
UPDATE 2: I forgot to mention the best part of my conversation with Richard Teague. When he learned that I'd grown up in DeKalb, Illinois, he told me that his late wife was a member of the Ellwood family of DeKalb. My grandparents lived across the street from the historic Ellwood House, and I once read an essay as part of an Independence Day ceremony on the front lawn.
Anton Zuiker ☄

© 2000 Zuiker Chronicles Publishing, LLC