Reunited with my boyhood baseball mitt
Mar 6, 2011
My brother, Nick, surprised me last week during his visit — he dropped an old leather baseball mitt into my lap with a nonchalant "I think this is yours."
Indeed it was.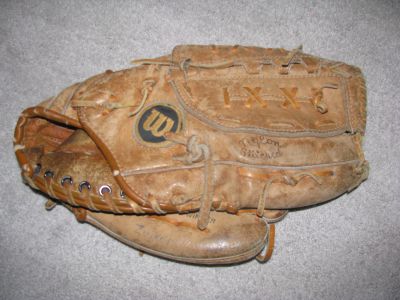 This mitt, a Wilson model endorsed by pitcher Bruce Sutter, was the one I bought in Caldwell, Idaho when I was 10 to replace my first mitt, a red leather beauty that I left at the water fountain near the ball field. I was devastated by that loss, but my father took me to the sporting goods store, helped me choose a new mitt and showed me how to break it in by putting a baseball in it and sticking it under my mattress. Dad also showed me how to strengthen my wrists by swinging a baseball bat with one hand, and taught me how to fill out a box score, and how to be a proper Cubs fan — "There's always next year" — even though our side of the family are White Sox fans.
Later, when we were living in DeKalb, Illinois, I'd take this mitt with me when Dad took us to Wrigley Field or Comiskey Park, always hoping to catch a foul ball. My favorite spot of any ballpark anywhere was the sunken left-field picnic area at Comiskey where I'd enjoy a hot dog and dream of being out there on the grass in the lights among the fireflies enveloped by the crowd's cheers.
It was also pretty cool to be sitting in the seats when the vendors would greet my father by name, hand over a free soda or bag of popcorn, and talk with dad about his days working the ballparks (like my grandfather and uncles, dad vended at Wrigley, Comiskey, Soldier Field and Chicago Stadium as a teenager all the way through law school at DePaul University).
This mitt served me well over many summers of Little League and high school ball as an outfielder, second baseman and shortstop (I also picked up a catcher's mitt in high school, but my poor eyesight caused me to be a shy catcher). I must have left the mitt at home sometime during college, and the fact that it's stayed in the family with so many moves astonishes me. I just wish my baseball card collection would turn up, too, although chances of that are slim, since my shoe boxes full of cards got tossed in the trash before the family had ever left Idaho.
I celebrated my reunion with my boyhood mitt by playing catch with my daughters in the front yard. And given my friend Bora's lack of baseball experiences — see An Open Letter to Bora Zivkovic on Baseball — I'll soon be buying some tickets to the Durham Bulls and taking him out to the ballpark — with mitt in hand, of course.
Anton Zuiker ☄

© 2000 Zuiker Chronicles Publishing, LLC