This van stops for kimchi
Mar 24, 2010
After the Rebecca Skloot talk to the Duke Sanford School of Public Policy this evening, I strolled back across campus to where I'd parked in the medical center lot. I needed gas for the van before I could make my way back to Carrboro, so I stopped at the station on the corner of 9th and Main streets.
I knew the OnlyBurger truck was nearby at Duke's East Campus, and I had a taste for a turkey burger, but the girls were at home waiting for their goodnight kisses and I decided to go straight home.
Still, when I glanced up to notice a Korean bbq truck in the Wachovia Bank parking lot across the street, my plans changed in an instant. Aha, I thought, there's bound to be kimchi on the menu.
If you've followed my tweets the last few months, you know that I made a batch of kimchi, but that the smell of the fermented cabbage was too much for Erin and girls, who stood firm in banishing my precious food from the house. Still, I'd had time to make kimchi tacos one night.

I crossed the street, and eagerly hustled up to the truck. After chatting with the owner/chef's sister, a Korean woman who was surprised I knew what kimchi was, I ordered kimchi quesadilla, learned that the truck — which is at the state fairgrounds in Raleigh on the weekends — will be on 9th street the rest of the week starting at 5 tomorrow and 6 on Friday. I'll be back for more kimchi, for sure.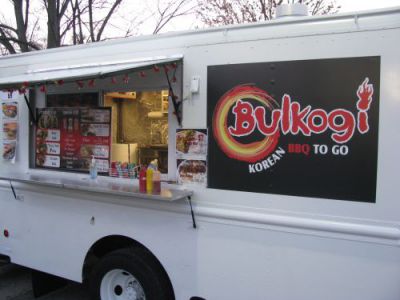 Anton Zuiker ☄

© 2000 Zuiker Chronicles Publishing, LLC