The Big Move
May 25, 2009
So, we're three weeks into our new home in Carrboro, and I'm finally sitting down at my desk to write about this move, the fleeting grief of leaving a beloved home, and the adventure of making this brand new house on a brand new street all our own.
At the moment, I'm in this front office, looking out the window, across the porch and small yard to other new houses in various stages of construction. It's Memorial Day, but there are crews erecting walls, installing floors, laying sidewalks. We're the third family to move into this neighborhood called Legends at Lake Hogan, and over the summer a dozen other houses are slated to be finished and occupied.
Our house is in the middle of the street. It's a very fine house. (See this Orange County GIS page.)
We've moved here because we needed more space, wanted to be in the Chapel Hill/Carrboro School District, and scored a fantastically low interest rate on a 30-year mortgage. There's room for our family to grow, for us to host Long Table dinners and BlogTogether Backyard Barbecues, to welcome visiting family and friends. The county is planning to develop a large park just north of us (see this page and scroll down to Twin Creeks), so we'll have plenty of space to play, too.
The old: 5506 Loyal Avenue, Durham.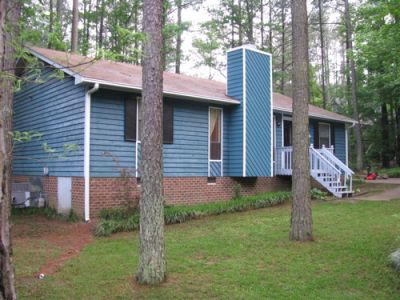 The new: 235 Legends Way, Carrboro (but with a Chapel Hill address).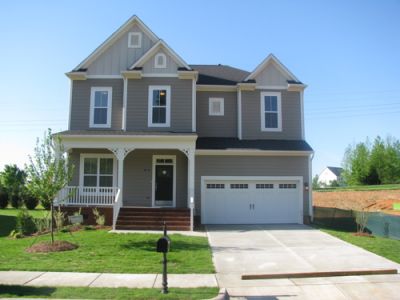 Details
Andrea and Peter Owens were our agents in both the sale of the Loyal home and the purchase of the Legends house. They kept us on track, dealt with all of our obsessive strategizing, and represented us quite well. A big thank you to them.
Tom Holt stepped in at the last moment to provide legal counsel — I was careful to read each and every word of each and every document associated with the purchase of Legends, but I wanted an attorney (other than the closing attorney, determined by the builder of the house) to help me understand some key passages. Tom found an important error straight away, and proved his value.
Jim Graves, sales agent for David Weekley Homes, is working hard to fill out the Legends neighborhood. Stop by and see him the model home, tell him I sent you, and move in down the street from us. (My only incentive is the joy of new neighbors.) Jim Talbot, the builder of our home, has been very responsive and attentive to our questions and needs.
Moving day was nearly a disaster — our boxing preparations were behind schedule, our two banks went down to the wire in transmitting the final documents to the lawyers and caused our closing meeting to be delayed, the All My Sons moving crew showed up early, and rain dampened not only the furniture but our spirits. The large price tag on the new house added a large dose of worry, too.
Keeping us grounded in all of this was our good friend, Harold McCarty. He spent a full week with us, and his assistance was invaluable. The Great Lakes Brewing Company beers he brought from Cleveland helped to end our long work days.
Parting thoughts
Leaving Loyal after five years was difficult. The house looked the best it had ever looked, the yard was groomed to perfection, and the towering trees seemed reluctant to let us go from their embrace. Loyal was a place of friends and neighbors and memories and growth and habits. I grieved those days during which we emptied the house and prepared it for other occupants.
Making a new home at Legends, though, is filling the emptiness. There are afternoon breezes and iced tea on the screened patio, trees and creeks and bike paths, sparkling stars and hooting owls long rat snakes, new neighbors and a nearby playground, grass to mow and Carrboro town to visit.
Anton Zuiker ☄

© 2000 Zuiker Chronicles Publishing, LLC