Ambrosia macaroons, chocolate birthdays & a reminder of Vila
Jan 5, 2009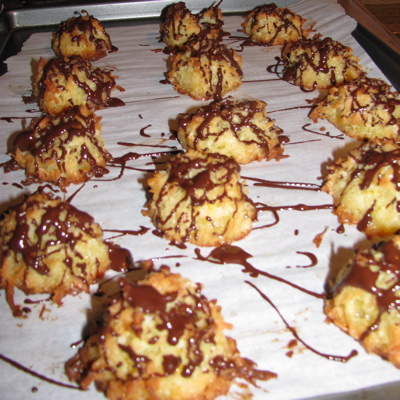 Having never gotten around to writing holiday cards or preparing gifts for my coworkers, and having come across this recipe for ambrosia macaroons in Bon Appetit, I baked up a batch of these delicious orange-flavored coconut cookies for the office, to high praise.
Nothing to it, really — this recipe is easy, fun and tasty. It's one that would be good to make with kids, too; Malia loves to help me drizzle lime frosting over the cornmeal scones we bake, and I know she'd get a kick (and a lick or two) out of drizzling the bittersweet chocolate on these macaroons.
Malia did help me mix up some chocolate brownies yesterday. She took those into her class today to share with her friends in celebration of her fifth birthday.
Then, tonight, I opened up the Bon Appetit Fast, Easy, Fresh cookbook and found a recipe for steamed tilapia with a great sauce — clam juice, lime juice, cilantro, grated fresh ginger, soy and fish sauce (I bought a bottle of Filipino patis recently at the Phil Asia Market) — that reminded both Erin and me of our very favorite restaurant meal anywhere, anytime, the coriander-crusted red snapper we would order at Harborside Restaurant anytime we were in Port Vila, the capital of Vanuatu.
Anton Zuiker ☄

© 2000 Zuiker Chronicles Publishing, LLC