When old friends call
Jul 12, 2008
Our DHS Class of 1988 reunion last month was well attended, but a few of my good friends from high school weren't able to join us. Some friends we didn't know how to contact.
Khaled Khan was one of the out-of-touch classmates and friends. No longer. This morning, the phone rang, a voice asked, "Do you know who this is?" and we were off on a long conversation.
Khaled was a great friend in high school, a soccer teammate and weekend (fellow teetotling) companion. After graduation, we borrowed my dad's car and drove west to Colorado, where we visited my Boulder relatives, zoomed down a Breckenridge alpine slide, pretended to be cowboys and paid an artist to draw a caricature.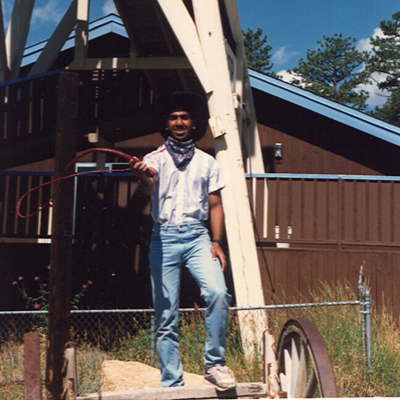 We also camped in Rocky Mountain National Park.
One afternoon, we set out for a hike up a mountain. On our way up, we noticed puma tracks, and recalled a warning we'd read somewhere that a mountaintop in the afternoon is a good place to be struck by lightning. We reached the summit as the sun was setting and the wind picking up, which is why I'm hunched between the rocks in this picture: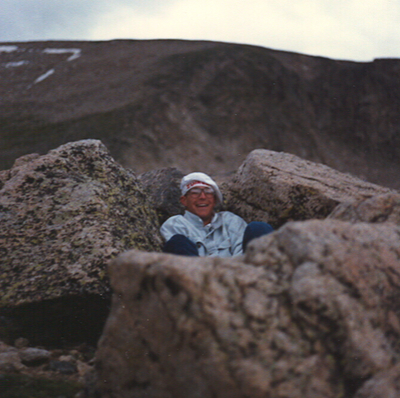 We hurried down the mountain, slipping on ice, dropping and breaking our one flashlight in a cold stream, thinking we were hearing wolves howl. The night was dark, and we were spooked, so naturally we talked about religion, me about my plan to be a priest, Khaled about his Muslim faith. I've been on much more strenuous and dangerous hikes (along windswept ridges in Hawaii, and to the lip of a live volcano in Vanuatu), but that Colorado experience is the one that I've recalled time and again.
A day or two after that frightful hike, our money running out, we pulled into Estes Park, with no place to stay but plans to leave at first light for our drive back to Illinois.
"Let's just sleep in the car," we decided. On the phone to my mother, I nonchalantly mentioned said plan. "But I'll let the police know so we don't get into trouble," I added.
When I walked into the police station, the officer on duty looked up. "Are you Anton?" he asked. "Call your mother."
Mortified, I went to the pay phone, placed a collect call home, and was instructed by my mother to call a DeKalb High classmate of my aunt's, a man who happened to own a small hotel in Estes Park.
The next morning, we began a 20-hour straight-through drive home.
Anton Zuiker ☄

© 2000 Zuiker Chronicles Publishing, LLC