Popovers
Jun 30, 2008
Saturday, after we'd been to the Durham Farmers Market to get honey from Little Tree Farm, cinnamon rolls from Angels Nest Bakery, tomatoes from Sunny Slope Greenhouses and blueberries from Lyon Farms, Malia accompanied me to the Chapel Hill Mall to purchase a popover pan (at KitchenWorks). Tonight we put it to the test.
The result: six gloriously warm popovers that we enjoyed with my homemade strawberry jam and the honey.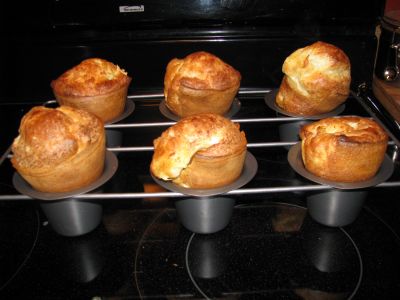 If you really want to know about popovers, and see a photo by a real photographer, click over to Michael Ruhlman's post, Flour, egg, milk.
Anton Zuiker ☄

© 2000 Zuiker Chronicles Publishing, LLC