A hockey legacy
May 28, 2007
Sunday evening photoblogging (posted a day late because of the holiday):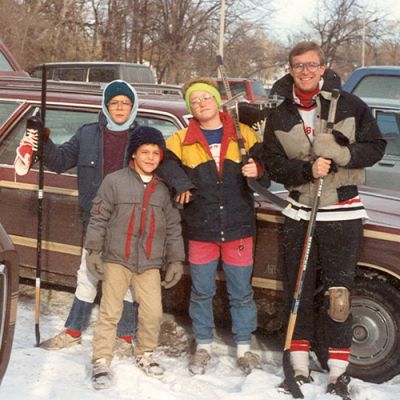 This weekend was a splendid Spring day in North Carolina, with warm, dry, sunny days and cool nights. Our flower gardens are tinged with color and promises of a vibrant Summer show.
So, naturally, when searching my photo archives for a photoblogging entry, I gravitated to this image of a cold, Midwestern afternoon during my high school days in DeKalb, Illinois. In this picture, my brothers Nick, Matt, Chris and I pose before we head out onto the NIU pond for a few hours of pickup hockey. Beneath my jacket I'm wearing a hockey jersey my dad made up for me; it's embroidered with the name The Ramblers, a hockey team my grandfather (Frank the Beachcomber) was on when he was younger — he and his brothers skated on Lake Calumet and other southside Chicago ponds. And that pad on my knee belonged to my father when he played hockey in suburban Chicago.
Anton Zuiker ☄

© 2000 Zuiker Chronicles Publishing, LLC