Sunday photo blogging
May 13, 2007
I'd like to start a new tradition for mistersugar.com by posting a photograph from my boxes of snapshots pre-digital camera (2001) every Sunday night. Here's the first: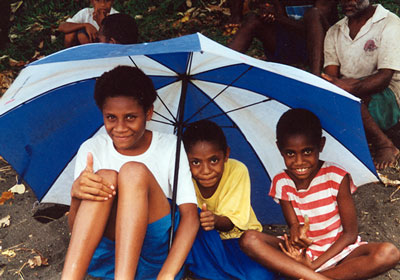 One rainy afternoon, Priscilla and Enna and a friend were waiting under an umbrella for the cargo ship to arrive at the beach below Liro Village. Noel, Enna's father and my adoptive brother, is sitting on the bank above them.
Each day, Radio Vanuatu broadcast over shortwave radio a shipping report with the locations of the handful of rust-bucket cargo ships that plied the archipelago. When someone up in the hills spied a ship in the waters of Paama Island, he or she would sing out "whoooo-eeeeee" and there'd be a rush of islanders running to the beaches. When a cargo ship pulled into our little bay, the men would form a brigade to carry sacks of flour or concrete up to dry ground. (I previously wrote about these passing lanes.)
The cargo ship visits were quick — the ships rarely spent more than 30 minutes at our beach, and only once or twice spent the night so the men could visit the kava bars — but they were entertaining, if only to break up the monotony of island life. The girls are giving the thumbs-up sign that we'd taught them (we learned later that this is an obscene gesture in Australia).
Anton Zuiker ☄

© 2000 Zuiker Chronicles Publishing, LLC