Letters from Paama
Feb 16, 2007
Last weekend, we had dinner with other Returned Peace Corps Vanuatu Volunteers Brian, who worked at the same school we did, recently stopped by Paama on his way around the world with his wife, Beth.
Here's a letter Brian brought back from Leah (she is the woman we called sister during our time in Liro Village, and she and her husband, Noel, were pivotal to our overwhelmingly positive experience on that island):
December 9, 2006 … More Anton Eren mo tuvala pikinini. Mi Leah Noel mo family mifala i wantem raidem shot letter long youtuvala. Olsem wanem long youfula? Mifala i hop se youfala i stap good nomo. Long mifala long Paama mo family Leah Noel mifala i stap good nomo. Anton mo Eren mi watem talem Terry Noel hem i stap long Vila. Enna Noel hem i stap school long Vaum J.S. School long Paama, hem i stap long Vaum 8. Meriva hem i stap long class 3. Mifala evevwan i stap good nomo. Mi wantem youfala i helpem mi long school fee blong Enna Noel. Hemia nomo mi wantem talem long youfala. Thank you tumas. More viskon. From Leah Noel.
And an annotated translation:
Hello Anton and Erin and your two children ( yes, pikinini, an English word now considered racist in the U.S. because of its connotations to slavery; in Vanuatu, the word is left over from the British colonial past, and is an accepted Bislama word for children ). I and my family want to write a short letter to you. How are you? We hope you are well. We on Paama are well. Anton and Erin, I want to tell you that Terry ( notice all the family use Noel's name as a family name; Noel passed away in 2002 ) is living in Port Vila ( the capital ). Enna is in eighth grade at Vaum Junior Seconday School ( the school in Liro where we worked ). Meriva is in third grade ( at Liro Primary School ). I would like your help paying for Enna's school fees ( something we've been trying to accomplish without cash getting stolen before it gets to her; Erin recently sent a box of fire-sale flip flops from Old Navy with instructions that Leah sell them to raise the school fees ). Everyone is doing well. That's all I wanted to tell you. Thank you. Good night. Leah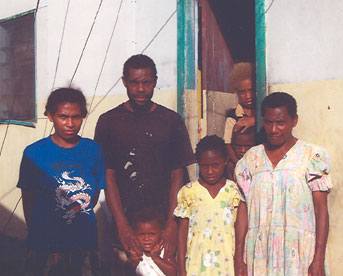 Leah's son, Reddy, also sent along a short note:
Mores family Antone. Mifala is stap oraet nomo wetem family long Paama. Thank you we mifala i reciven letter blong you mo wetem carden. Antone me wantem se mbae yu givim wan torche we i no gat batirie. Mbae yu givim wan washe blong mi. Thankyu long cooperation blong yu. God bless yu long work blong yu.
It's a classic Ni-Vanuatu note asking for goods (Vanuatu is famous for its cargo cult on Tanna, the John Frum Movement). When Noel died, Reddy and his wife moved back to Paama from Port Vila, and Reddy now operates a kava bar (called the Six Horeshoes, after something a British youth volunteer left him) a few feet from the open space where the Liro Nakamal used to be before it was blown down in a recent cyclone.
Hello. We're all right on Paama. Thank you for your letter and package. Anton, please send me a flashlight that doesn't need batteries ( I've had a box with two wind-up flashlights sitting on the shelf for too many months, so I'll send that out tomorrow ). Send me a watch, too. Thanks for your generosity. God bless you and the work you do.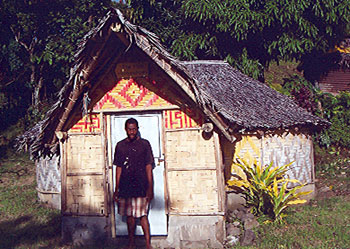 Anton Zuiker ☄

© 2000 Zuiker Chronicles Publishing, LLC