Good reading
Apr 26, 2006
As I've written here before, I've always considered myself a reader before a writer ("To write good poetry, you have to read the best poets," said one poet on this recent episode of WUNC's State of Things). I love magazines, but I also enjoy exploring the treasures within a good reference book.
Yesterday, I finally bought myself a copy of the excellent law reference so that I can learn a bit more about the legal underpinnings of our national policies. (Erin had her Constitutional Law exam on Monday, and despite a computer crash midway through the test, she's still jazzed about how much she learned in the class.)
Another recent addition to my reference shelf is , an invaluable guide to medicine and health. I've been using , a more consumer-friendly version of the manual, for the last couple of years. (Both books have been gifts of Merck & Co., which I received at conferences or events related to my journalism education or AMA blogging presentation. Look for a Jeff Jarvis-inspired full disclosure in the next week or so.)
And yet when someone gets sick, I often reach first for , the book that was a constant reference during my Peace Corps service in Vanuatu.
(Last fall, I wrote about my suspicion that I'd had Dengue fever. I learned this week that the study I volunteered for in October confirmed that I did indeed have type-2 Dengue.)
On a walk across campus today, I made a note to write about my reference book collection and these new additions. Just before I sat down to begin this entry, I looked in on Anna and Malia. Here's what I saw: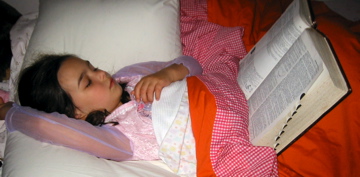 That's right: Anna fell asleep while reading a dictionary. That's my girl!
Anton Zuiker ☄

© 2000 Zuiker Chronicles Publishing, LLC