Buttons
Mar 26, 2006

In the mailbox on Friday was a package from my Cafepress StoryBlogging store with ten mini buttons sporting the StoryBlogging icon (if you can't make it out, the icon is meant to signify two people having a conversation).
Little by little, I've been improving the StoryBlogging website. At the same time, I'm working on a new website for my father, who will announce later today his campaign for political office. As I was searching through old picture albums for snapshots of my father in his various civic roles, I came across this picture of me at age two, when my dad had me on the campaign trail for Jack Shaffer, who unsuccessfuly ran for Congress in California in 1972 (notice the button I'm wearing):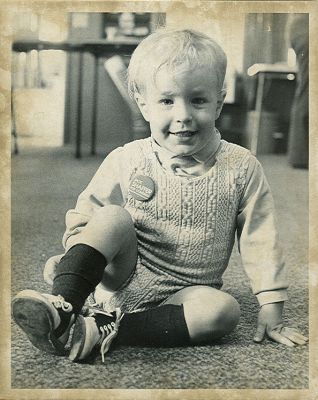 Later, when we lived in Idaho, my dad helped on the campaign of another politician. He took me along to a meeting at our favorite Bob's Big Boy restaurant, and I ate a fifty-cent hot fudge sundae while the adults talked campaign strategy with the candidate. Weeks later, we were back at the same tables, but this time the talk was different: the candidate had died the day before when his small plane crashed in the north of the state.
My dad's own civic activity has always inspired me. His service in the Peace Corps (see Step to Freedom for more about that), his participation in political campaigns and local governance (he's on the Makiki neighborhood board), his commitment to the poor, his constant generosity and his passion for running will make him an excellent candidate.
I'll gladly wear his campaign button.
Anton Zuiker ☄

© 2000 Zuiker Chronicles Publishing, LLC