Step to Freedom
Sep 8, 2005
And with this message from my father…
It takes a lot to humble a Zooker but I am reverent in my corner of the house. I received your wonderful and thoughtful gift. I am so very happy that you feel and give kindness toward me. And I am thankful that you remember my wonderful Dad who was a kind and not always recognized pillar of his comunities.
…the cat's out of the bag. Let me tell you about Step to Freedom.
For many years, as my boxes of college papers and favorite magazine articles and high school plaques got shuffled from Hawaii bedroom corners to Cleveland attics to North Carolina closets, a photocopy of a 250-page typewritten manuscript came along for the ride. I knew that the manuscript was a memoir of my father's Peace Corps service in the Dominican Republic in the 1960s. Because I'd grown up listening to his stories and viewing his slideshows, I didn't bother to read the manuscript.
During my own Peace Corps experience, Dad came to visit me and Erin in Vanuatu. Twice. Both years we sat up late, eating green papaya salad and drinking wine, talking about how great it'd be to write a book together. We knew we had an interesting story to share, about a father and a son linked by similar overseas experiences, but also about important issues such as marriage, divorce, politics and religion.
Our book idea went nowhere.
Later, here in North Carolina, I dug out the manuscript in preparation for a trip to the Dominican Republic, wanting to read up on the Crossroads town of Santiago de la Cruz. Dad was going to take me there as a gift for earning my masters degree in medical journalism. It would be a homecoming for him, his first visit back to his PC post in more than 30 years.
"This manuscript," I thought. "This can be our book." What made this sentimental was that the story had been written by my grandfather after he'd had extensive discussions with my Dad when he returned from his service. My grandfather died in 2000, and this book would be a gift to my father and a tribute to his father.
I planned to make it into a book so I could present it to Dad on our flight down to the DR. I scanned the manuscript, used OCR technology to convert it to a Word document, and then edited it line by line to clean up all the OCR scanning mistakes. I would use the print-on-demand services of Lulu and CafePress to publish this book. But school, the birth of Malia and other projects slowed me. I moved my deadline quite a few times, thinking I'd finish by a Christmas, or by Dad's birthday, but never finishing.
This summer, though, I focused my nighttime energies on completing the project in time for Dad's birthday, which is tomorrow (September 9). Dad received his copy last night; hence, his touching e-mail message.
And, so: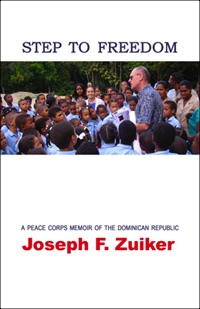 My contribution to the book is the Foreword, which you can read here. Here's an excerpt:
Step to Freedom chronicles the strides my father took as a young man eager to leave his home in Chicago for a poor corner of the world where he might make a difference. I can easily imagine Dad telling the story of his Peace Corps experience to his father, Francis, who would then retreat to Studio 3, his office, to record that story of adventure and perseverance and ultimate success. Even though he was typing my father's story, my grandfather was also sharing his own, weaving in a life philosophy surely forged through his experiences in the tumultuous first half of the Twentieth Century. Francis was the son of an immigrant from Holland, and as a young man in the Great Depression and later the father of nine children, he learned all about hard work and self-motivation in the face of adversity.
Learn more about the book and view Dad's slides and pictures from our 2004 DR visit, over at Zuiker Chronicles.
Anton Zuiker ☄

© 2000 Zuiker Chronicles Publishing, LLC