In this corner
Apr 24, 2005
Highlights of the past week:
Monday: Erin's 32nd birthday.
Tuesday: lunch at Weaver Street Market with Badi Bradley, who suggested I visit the studio of Siglinda Scarpa.
Wednesday: Badi and his wife, Luisa Pedrosa (Anna's former babysitter), on a moment's notice, agreed to watch Anna and Malia for a few hours so Erin and I could attend the Fred T. Foard, Jr. Memorial Lecture, given this year by Dr. David Heymann of the World Health Organization. He spoke about dilemmas in public health, and drew on his experiences fighting Ebola (he was on the team that investigated the first outbreak in 1975), polio and SARS (he directed the WHO response to that emerging infectious disease in 2003). I'll post a podcast of his talk later today. Most surprising part of his presentation was learning about the Global Public Health Intelligence Network, "a secure, Internet-based 'early warning' system that gathers preliminary reports of public health significance in seven languages on a real-time, 24/7 basis."
Thursday: Jonnelle Allen, who sat with us at the Foard Lecture, watched Anna and Malia so Erin and I could go out for a dinner to celebrate our birthdays. We chose nearby Nana's, where we savored our delicious dishes:
Risotto with Niman Ranch ham, smoked scallops and sweet peas, finished with grilled radicchio and parmesan reggiano.
Celebrity Farms goat cheese crumbled in a salad of roasted beets, baby arugula and Belgian endive in a citrus vinaigrette.
Sauteed Alaskan halibut with little neck clams over roasted celery root, purple Peruvian potatoes and zucchini, finished with a leek broth.
Grilled Niman Ranch pork chop over roasted salsify, butterbeans and Swiss chard in a trumpet mushroom sauce.
Dessert was a glass of Renwood port and a lemon curd tart over blackberry puree with strawberry slices.
Over dinner, Erin alerted me to my expired driver's license, and she thanked me for being her cornerman, a term she picked up earlier in the week while watching Ring of Fire: The Emile Griffith Story. I gave Erin a copy of Mary Doria Russell's A Thread of Grace.
Friday: Breakfast at Foster's Market with Rose Hoban of WUNC (which has a horrible new logo). Rose was a Jesuit Volunteer Corps volunteer in Micronesia, a nurse in California and a journalism grad student at UC Berkeley before being recruited to Chapel Hill to cover North Carolina public health and health policy stories.
Saturday: I created nickandstaci.com, where we'll update information about my brother Nick's wedding later this year.
Sunday: Today, we took a drive into the country on this cool, blustery day to visit two farms on the Piedmont Farm Tour. At the Fickle Creek Farm, Ben Bergmann told Anna about how his great Pyrenees livestock guard dogs keep the 600 chickens and 75 goats safe from hawks, owls, wild dogs, foxes, raccoons, snakes and other predators. "One of the ironies of modern society is that my [recent Passover] customers get my chickens from a halal butcher," I overheard Ben telling another visitor. "Halaal is to Islam what kosher is to Judaism," he explains.
Anna and Malia petted one of the other dogs at Fickle Creek Farm.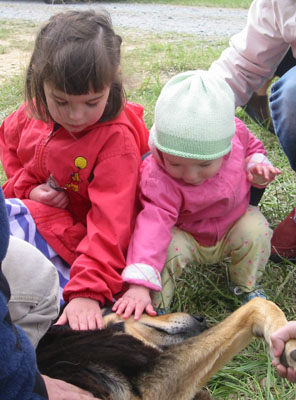 We also paid a visit to Chapel Hill Creamery, which makes Erin's favorite cheese; we buy that at the Carrboro Farmers Market.
Anton Zuiker ☄

© 2000 Zuiker Chronicles Publishing, LLC