What would you take?
Jan 24, 2005
The Atlantic Monthly has a graph illustrating a recent survey question from Yahoo!'s Disconnected: Life Without the Internet project: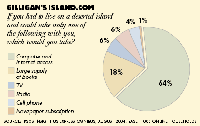 If you had to live on a deserted island and could take only one of the following with you, what would you take? Computer and Internet access; large supply of books; TV; radio; cell phone; newspaper subscription.
That reminded me of my time on Paama. After a few weeks of being there, I came to the conclusion that I couldn't get through my two years as a Peace Corps Volunteer on a small South Pacific island without the Atlantic and the New Yorker. So I sent away for the costly international subscriptions and prayed the magazines didn't get sent to Panama like an L.L. Bean order that got waylaid. The mags did arrive, though months after the issue date, and I'd read every word while swinging in my hammock. Complementary Newsweek also came to us, as it always has to all Volunteers.
Books also filled our hammock time, and Richard Gildenmeister and Butch McCarty sent us the best care packages filled with paperbacks. Richard also sent me The Statesman's Yearbook, a costly but indispensable tome (one reviewer even says 'On the desert island of the imagination this title should certainly be up there with the Bible and Shakespeare.') that, along with the Control of Communicable Diseases Manual (second item), kept me occupied for countless hours.
What would you take? Favorite magazine, or books by a certain author (we read Leon Uris and James Michener, for example)? One single album you couldn't exist without (I'd take Peter Gabriel's Us)?
Anton Zuiker ☄

© 2000 Zuiker Chronicles Publishing, LLC