Survivor Vanuatu
Sep 16, 2004
It's started, and I'm shaking with emotion to see my beloved Vanuatu islands. The spirit of Noel is beside me. (Not sure what I'm talking about? Survivor is a reality show, of course, and this fall it's set in Vanuatu, where I served with Erin as Peace Corps Volunteer. Read the About section for more.)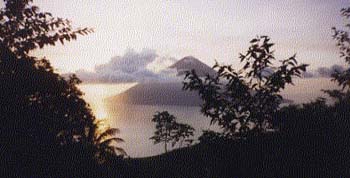 The men have been dubbed the Lopevi Tribe. Lopevi is the classic conical volcano shown in the opening credits of the show (and at sunrise in the picture above), and it's the volcano that towers behind Paama. It often rumbled during our time there, but on two occasions when it was sleeping, I went over to walk on its slopes.
My first trip to Lopevi was with Alex Frater, an English travel journalist who had spent his childhood on Paama. He came back for a visit, and he wanted to see Lopevi, where his grandfather, missionary Maurice Frater, had ministered to the two villages. Those villages were evacuated sometime in the 1960s when lava flowed into them, and now no one lives on the island.
We motored over in a tiny aluminum boat, and I was scared to death through the rough strait that separates Paama and Lopevi. But once on the black sand beach, I was ecstatic: I was on a desserted South Seas island, just like my childhood hero Robinson Crusoe (or here to listen to the story).
A few months later, I returned to Lopevi, this time with Erin and a visiting Spaniard who was traveling the world hunting volcanoes. Jose tried hard as he could to climb to the rim of the crater, but the upper slopes were just too steep. Erin and I tagged along behind, marveling at the large boulders strewn about. The thought of Lopevi spitting rocks at us added a sense of danger to our stroll.
On our second-to-last night on Paama, Erin and I, accompanied by our Ni-Vanuatu family Noel and Leah, climbed in the dark up to the top of Paama. We sat in a kumala field (kumala is a type of sweet potato) and watched the pyrotechnics across the water, Lopevi belching molten lava every 15 seconds. The lava would erupt out of the crater, hover and fall, then slide down the very slope on which we'd once relaxed.
Anton Zuiker ☄

© 2000 Zuiker Chronicles Publishing, LLC