The week in review: brothers, Bon Jovi, Peace Corps
Feb 28, 2011
Busy week just past, with a visit from my brothers, Nick and Matt, who flew in from the West to spend a few days hanging out on the campuses of UNC-CH and Duke and taking me to see Bon Jovi in concert in the RBC Center.
We had an extra ticket to the concert, so I asked David Kroll to join us. Before we headed to the arena, I presented him with the first BlogTogether Community Service Award, which I'd announced at the opening reception of ScienceOnline2011. David's an amazing supporter of science bloggers — read his latest post, It just changes – that's all), to observe the depth of his humanity — and has helped both me and Bora through the years as we've grown the conference and nurtured the BlogTogether spirit.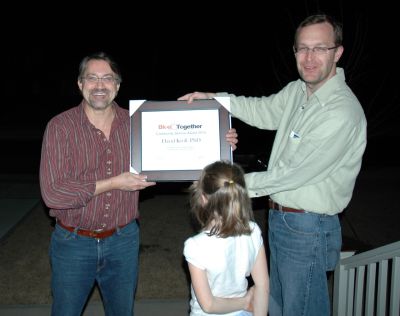 (Details about how to nominate someone for the 2011 BlogTogether Community Service Award will be posted this summer.)
The rest of the week I was focused on our Thursday evening research retreat for work, but I also took an hour to participate in a Duke WebCom discussion about social media — more and more of my Duke colleagues are incorporating social media into their work. I'm especially happy that any Duke student, employee or faculty member can easily create a Wordpress site at sites.duke.edu
The next day, I led a storytelling session as part of Duke In Depth: A World Together (info here at the moment, later here). This session was an opportunity for the alumni — many of them Returned Peace Corps Volunteers — to share a story about what they learned working in another country. I started with a story that blended elements from my essay From There to Here, my blog post Bugs in the night and my introduction to my dad's Peace Corps memoir, Step to Freedom.
Eight others stood up to share their stories, about visiting Mother Teresa's hospital in Calcutta, teaching Moroccan school kids the meaning of John Lennon's song, Imagine, and how a romance bloomed in Nepal. We'll post video soon.
Ken Goodson, advisor to the Peace Corps, Returned Peace Corps Volunteer and former country director, and Duke alum, was also at the session, but he had to wait until the keynote speech at the NC Peace Corps Association dinner last night (also part of the Duke In Depth program – ). He shared the Peace Corps stats — 9600 volunteers currently serving in 72 countries (with requests from 20 other countries), and 200,000 RPCVS (Peace Corps alums), and of current volunteers, 97% have cell phones and 80% use the Internet daily.
Those last stats made me grateful I served when I did; as I told in my storytelling session, my time on a tropical island with no electricity and spotty phone service fueled my desire to jump into the Web. I mentioned that in my recent year-in-review post.
Goodson also talked about his time as Peace Corps country director in Mongolia, when the swearing-in ceremonies began to feature the new volunteers singing and performing traditional Mongolian songs and dances. Many of these performances are on YouTube, including this one:
Today, a run with Anna and Malia, then the Duke-UNC women's basketball game in Cameron Indoor Stadium. It's midnight, and another week beckons.
Anton Zuiker ☄

© 2000 Zuiker Chronicles Publishing, LLC