Sitting, sipping and swinging
Oct 23, 2010
I stopped drinking coffee months ago (only came around to coffee, and cafe mocha at that, in 2004), but felt today was just the day to sneak off to Caffe Driade for a latte in one of those big bowls they serve. Alas, all the bowls were in the dishwasher, and the barista asked me if a pint glass would suffice. I hesitated, but decided a glass would do just fine.
A few yards away, I sat down to enjoy the latte and the Malcom Gladwell article Talent Grab.
When I finished, I zipped over to Lowe's to get the extra-long drill bit I needed to finish — finally — the porch swing project. Sixteen months in the making, that project was to find a way to hang the handmade swing, which a friend had given us as a wedding present, from the beams in the front porch ceiling. With advice from a few friends with more carpentry savvy than me (and no help from the carpenter putting up the houses all around this new neighborhood), a special order of long eye hooks, and half-a-dozen visits to Lowe's, I found a way to poke holes in the ceiling board, find the 2×4s and embed the hooks.
Once the swing was up, it was clear it needed some adjusting. But not before a fun photo op: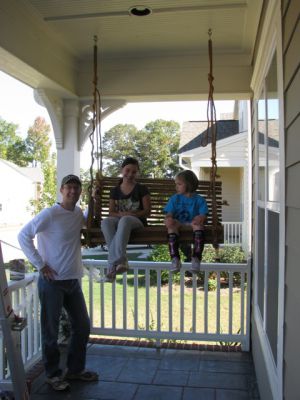 Anton Zuiker ☄

© 2000 Zuiker Chronicles Publishing, LLC