Summer recap, and ScienceBlogging is live
Aug 29, 2010
Summer isn't officially over for another month, but with the start of school and Erin headed back to work this week, we're clearly moving into a new season. Our daily lifestyle is going to get more intense, but the promise of our two darling daughters and the joys of little Oliver will keep us balanced.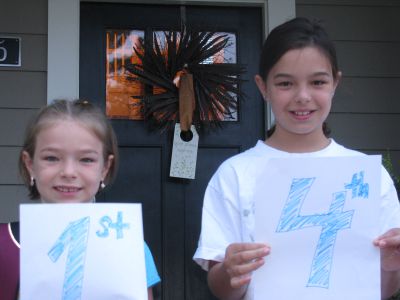 At work, I've been at my new job — as communications director for the Duke Department of Medicine — for two months. It's a big and busy department, with lots of challenge and opportunity. I'm honing a communications plan that will include a research blog (see below for a related development), an annual report multimedia project and a solution to the intranet challenge for keeping 500 faculty physicians and 1000 staff members up-to-date about department news and opportunities.
My office is on the first floor of the Duke University Hospital, just a few dozen yards from the cafeteria. Most days, I try to take a walk through the hospital and the busy clinics — some of the cancer clinic waiting rooms overflowing with patients and their families — and along the walkway where two new buildings are being constructed (see construction cam) to provide more patient-friendly spaces. There's certainly a lot of activity — patient care, medical education, basic and translational research — to capture, and I'm in my element.
Online, I'm still building, too.
Last week, I teamed up with Bora Zivkovic (my ScienceOnline collaborator) and Dave Munger to launch ScienceBlogging.org, an aggregator of the many science blog networks' feeds. The response to the site has been quite positive, and the ideas for making that site a more useful service for monitoring the prodigious flow of science blogging will keep us quite busy in the months ahead.
And then there's the fifth annual science blogging (and more) conference, ScienceOnline2011, tentatively scheduled for January 2011. Bora and I have been the main organizers of that conference for the last four years, but this year, with the conference needing to expand to reflect the interest in the event and the many developments in the science blogging world this past year, we're going to need quite a bit of help (especially since new jobs for me and Bora — he'll have news soon, I hope). Watch for a post, a plea for fundraising and logistical and programmitic assistance, very soon.
It's still hot outside, and the pool beckons. As I have all summer, I'll continue to ponder these projects and brainstorm new activities, and discuss with Erin just how to accomplish all this in a balanced, healthy manner.
Life is great.
Anton Zuiker ☄

© 2000 Zuiker Chronicles Publishing, LLC